Our Lake – Swimming and Bathing Fun, Water Sports, and Relaxation

Summer, sun, and water. Is there anything nicer than taking a refreshing swim or paddling in a rubber boat across the lake?

Our lake has a very good water quality throughout which is tested at regular intervals. You can check the results at "Badegewässerkarte des LUBW" [the swimming waters map published by the Regional Office for the Environment, Measurements, and the Protection of Nature of the State of Baden-Württemberg].

The non-swimmers' area is cordoned off by buoys so that even the little ones can enjoy their bathing fun. During swimming hours, our staff or a DLRG rescue team look after your safety.

Come and unwind while enjoying the sunshine on our spacious and well-kept lawn for sunbathing.

Swimming times 15. April - 15. September
15. April - Pentecost holidays Ba-Wü

10:00 am–18:00 pm

Pentecost holidays Ba-Wü

- 17. September


8:00 am–21:00 pm (latest until sunset)
Opening times Entrance II

open 01. Mai 2023
In case of inclement weather, Entrance II will be closed.
Current water temperature
9,0°C (03.12.2023, 08:30 am)
Water skiing / wakeboarding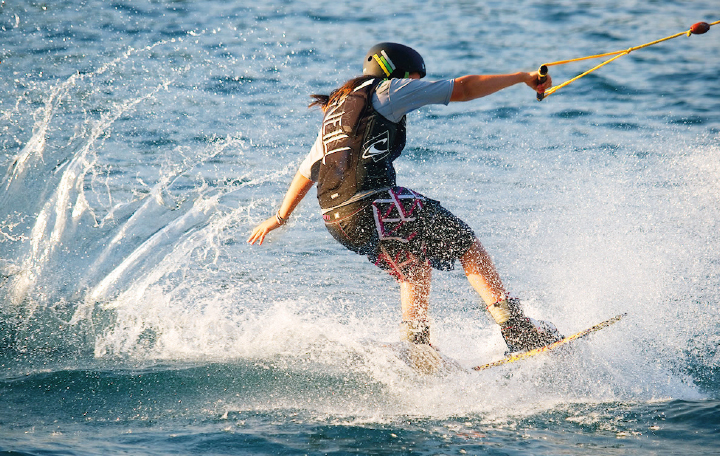 Experience the fascination of water skiing and wakeboarding. Whether you're a rookie or a pro – here you'll find premium class water sports. Since the 2011 season, we have a new beginner's lift making the start much easier for rookies. Great fun for young and old alike you simply mustn't miss.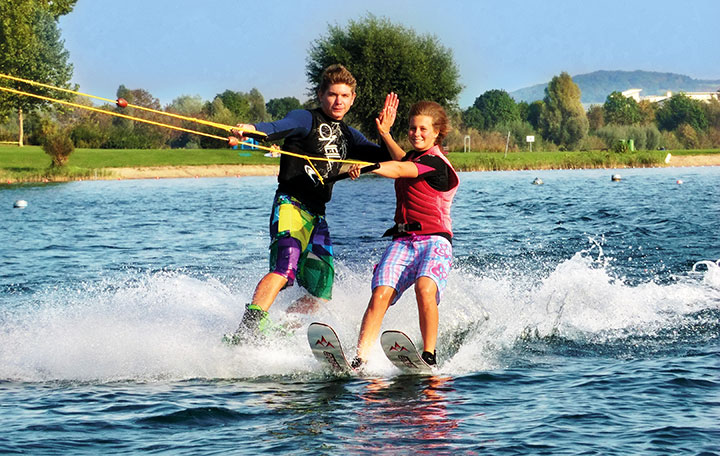 If you're still looking for the right outfit for a perfect day at the lake, you're bound to find the right apparel at our new Pro-Shop. There, you can choose from a wide range of wakeboards, neoprene wetsuits and of course the latest in swim fashion.
Surfing, stand-up paddling, sailing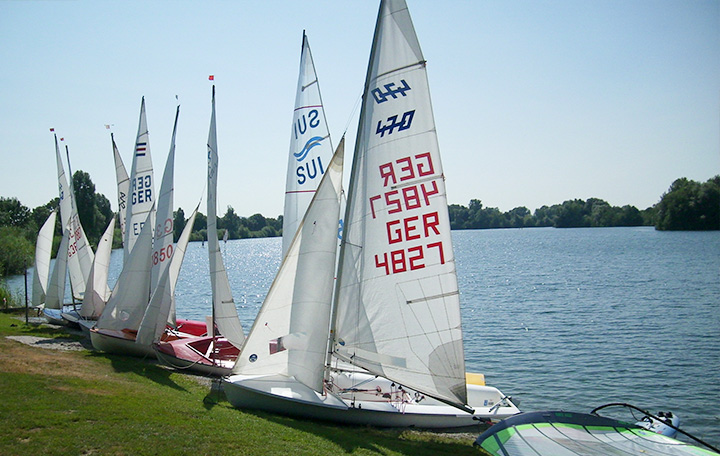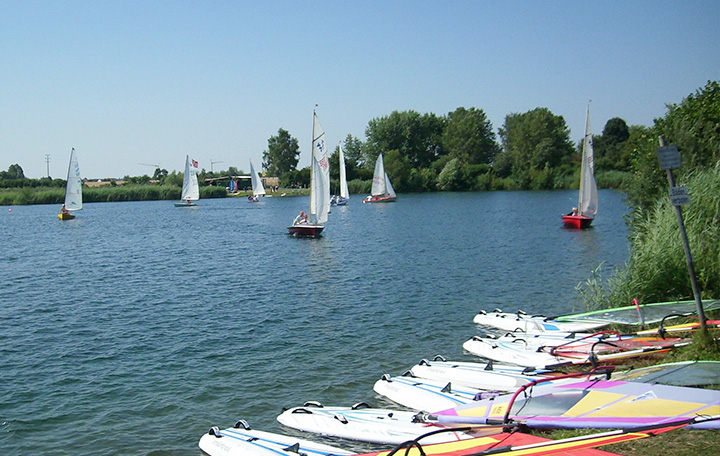 No matter if wind or calm, at the water sports lake 16 hectares of water surface and nature are available for water sports.

The windsurfing and sailing club St. Leon-Rot e.V. has been present at the St. Leon lake for years with many activities. You can learn to surf from trained VDWS windsurfing instructors and glide across the lake. Arrange a trial appointment to find out if sailing or surfing excites you.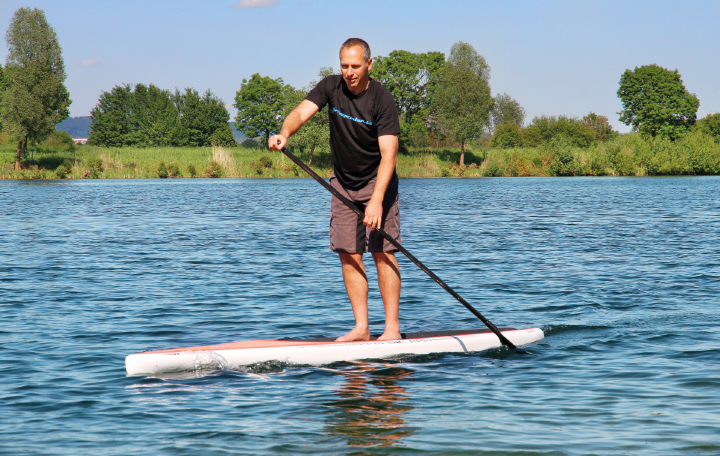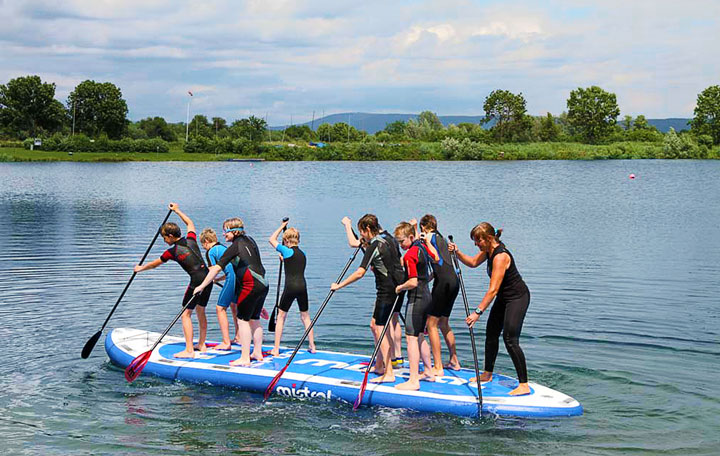 On not-so-windy days, you can discover the new trend sport stand-up paddling (SUP).

Our SURF + SUP Center offers you a large selection of rental equipment for windsurfing and SUP.

Individual events for school classes, athletic birthday parties, or team building exercises for workplace teams – nearly everything is possible.

The SURF + SUP Center team is looking forward to your visit.

Windsurfing & Segel-Club St. Leon-Rot e.V.
SURF + SUP Center
+49 160 8227613
www.surfsupcenter.de
The Center is located in the immediate vicinity of Entrance 2.
Dive deep down and discover the underwater world of the "St. Leoner See" lake with its water depth of up to 24m. Our lake features two convenient entry points for divers. On the grounds, there's a heated divers' room with a shower so that you can also go diving outside the swimming season. You need a basic diving license.
Warning: Diving within the water skiing area is prohibited and dangerous! That's why you must not surface in the water skiing area.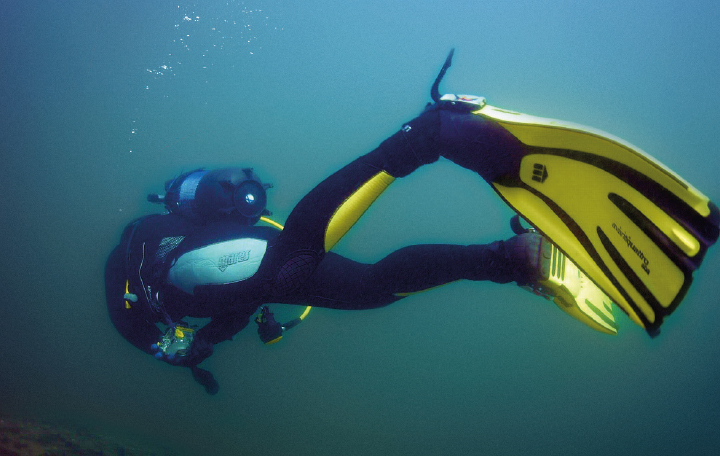 Calm and quiet, away from everyday bustle – throw your line and relax when fishing in our quiet and idyllic fishing lake. You can look forward to a varied and healthy fish population assured by annually placing new fish in the lake.

More information at the reception desk.